Are you ready for a career that brings a whole new world of exciting possibilities?
As an Air Traffic Controller, you will be playing a crucial role as the guardian of the Australian sky. You will be part of a vital team that manages 11% of the world's airspace, and guided by world-class technology will ensure the safe, reliable and efficient airspace use of all aircraft operating in our skies. Connecting people with their world safely.
Air Traffic Controllers manage the safe and orderly flow of aircraft into, out of, and between airports throughout Australia and with overseas regions adjoining Australian airspace. This is a rewarding role that requires a high level of commitment and responsibility.
Air Traffic Controllers are based around the country and work in one of our two major centres in Melbourne or Brisbane, two terminal control units or 28 control towers at international and regional airports across Australia.
There are three broad categories of Air Traffic Controllers.
In addition to the daily management of routine air traffic, controllers also provide information and assistance to pilots if they experience an in-flight emergency.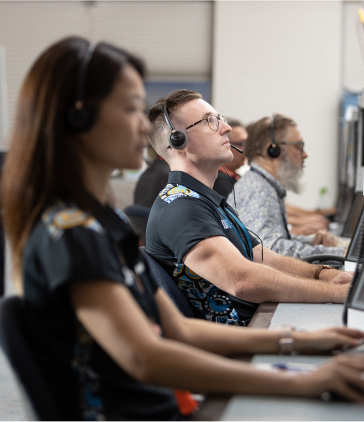 1
Easily
apply online

2
Online ability
assessment
3
Interview and
further assessment

4
Medical and
security checks
5
Successful
application
 Air Traffic Control Trainee
Adam Hart is an Air Traffic Control Trainee located in our training centre in Melbourne. Adam is an aviation enthusiast with a passion for flying and general aviation practices. He is studying to become an enroute air traffic controller and is undergoing 14 months of training to gain his qualification as a guardian of the Australian sky. 
Effective teamwork and collaboration are what allow us to effectively manage the arrival and departure of more than 156 million airline passengers annually. No matter whether you're a technical officer, air traffic manager, or Aviation Rescue Fire Fighter, you'll find yourself connecting with talented people and incredible opportunities.